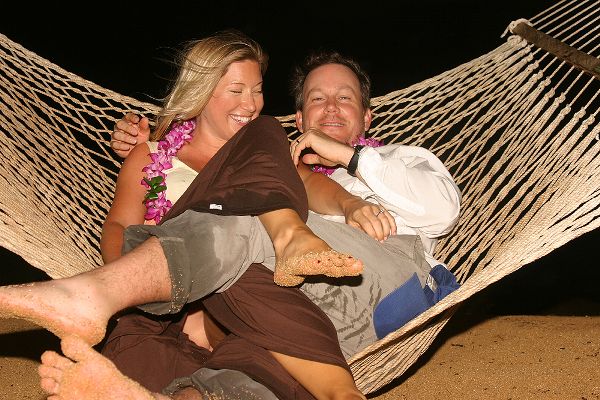 Kauai Honeymoons
Experience of Love

Go

Sunset Sail

Go
Spa Sensations Go
Romance Go
Honeymoon & Anniversary Reviews Go
Known for its lush greenery and tropical rainforests, Kauai's unspoiled environs set the stage for honeymoon bliss. And nothing else on earth is quite like Poipu Beach. Idyllic sun-drenched days magically turn into soft, candlelit nights. The poignant fragrance of exotic, tropical flowers is in the air. And so is romance.
Kauai gives couples plenty of options to consider during your romantic time together. Do you prefer relaxation, rejuvenation or exploration? To help you plan a honeymoon that's customized to fit your tastes, budget and style, please call our concierge staff at 866-849-2426.
For a complete list of activities on Kauai, please see our activity company, Kauai Vacation Helpers, website at http://www.kauaivacationhelpers.com. Also, don't miss the Honeymoon & Anniversary Reviews submitted by our previous guests. Here are just a few of many possibilities.
This is a place of such stunning beauty and enchanting harmony; it quietly defines the meaning of 'devotion'. Whether beachside or on your private lanai, you will find no more spectacular setting for your honeymoon than Hideaway Cove Poipu Beach. And what better way to begin your honeymoon than with our exclusive "Experience of Love", available for a cost of $75. You'll enjoy:
A bottle of premium champagne
A box of decadent Kauai chocolates
Late check out if available
| | |
| --- | --- |
| | The gentle rocking of the ocean, the warm salt air, breath taking views surrounding you on all sides, a gorgeous sunset and romance go hand in hand. When you're at sea, it's easy to relax, forget about everything and focus on one another. After all, there's a vast ocean between you and the rest of the world. It's no wonder so many couples say a Napali coast sunset sail is one of their top choices when it comes to selecting a romantic getaway. |
Although there are several choices for a spa experience on Kauai, the best without a doubt, is the award wining 25,000 square foot ANARA spa at the Grand Hyatt Resort, a five minute drive from Hideaway Cove. Here you'll experience a host of Hawaiian healing therapies-- nearly 70 different treatments in all. You can call them at 800-742-1224 with any questions.
Book a treatment and a daily spa membership is included or you can come early and stay late. Or make it a day to relax and unwind together by using daily spa memberships to lounge by the pool and in ground hot tubs, lunch at the heart healthy Kupono Café and enjoy whirlpools, Finnish saunas, Turkish steam rooms, and 12 jet Swiss showers in the private men's and women's areas.
Here are just a few of the spa journeys awaiting you at the ANARA spa.
Soothing Salon Day (ho'omalie)
Aromatherapy Scalp Treatment, Spa Manicure and Pedicure (approximately two and a half hours)
Call Hyatt
for pricing.
808-742-1234
Couples Experience ('elua po'e)
Hawaiian Salt Glo Scrub and 80-minute Lomi Lomi Massage (approximately two and a half hours)
Call Hyatt
for pricing.
Hawaiian Day (ka la Hawaii)
Polynesian Noni Wrap, 50 minute Lomi Lomi Massage, Kupono Cafe Lunch, Royal Hawaiian Facial, Gift of a Hawaiian Pareau (approximately five hours)
Call Hyatt
for pricing.
Your Selection for the Day (ka la koho)
Choice of Full Session Massage or ANARA Facial, Choice of Lilikoi Lemongrass Moisture Renewal or Seaweed Body Masque or Facial, Kupono Cafe Lunch, Pedicure or Aromatherapy Scalp Treatment, Manicure (approximately four hours)
Call Hyatt
for pricing.
Wedding Day (ka la male'ana)
French Manicure, Bridal Hairstyling, Bridal Make-Up Application (approximately two and a half hours)
Call Hyatt
for pricing
If health and fitness is of concern, don't miss the world class fitness center at the ANARA spa. Treadmills, recumbent bicycles and elliptical trainers are all have flat screen televisions plus ear phones are provided for your convenience. Enjoy a wide variety of the latest exercise machines and of course free weights. Chilled towels and iced water make for a perfect ending to your work out.
In addition to daily spa membership, enjoy personal training or a fitness assessment consultation as outlined below.
Daily Spa Membership
Membership includes: Fitness Membership, personal locker, whirlpool, Finnish sauna, Turkish steam room, Swiss shower, private men's and women's sun area, 25-yard lap pool, bath and beauty amenities, use of spa wardrobe including robe and slippers. Spa Membership is available on a daily basis, and is complimentary with any spa treatment.
Call for
pricing.
Fitness Assessment Consultation
Heart rate, blood pressure, flexibility, strength, endurance and cardiovascular fitness are tested; body composition analysis (with caliper) are taken. A customized exercise program is designed for your based on your results and your personal fitness agenda. Recommended for those interested in beginning a fitness program or for regular exercisers in search of a "tune up".
Call for
pricing.
Personal Training Session
Our certified personal trainers work privately with you to increase performance and maximize results. An excellent way to learn new training techniques or refine your existing fitness program. (60 Minutes)
Call for
pricing.
Back to Top
Savor the exquisite cuisine of the top notch chefs at Donderos restaurant. Ask the Concierge to reserve a candlelit table on the outside lanai with a view of the ocean.
Listen to live jazz beginning at 9 pm at Stevensons Library. Or travel to the Hanalei Bay Resort for live jazz on Sunday afternoons.
Arrange for a private oceanfront dinner for two on the sand.
Attend polo matches in the summer. Ask the Concierge for the schedule of games. Be sure and bring a picnic lunch as tail gating is encouraged.
Try zip-lining through jungle canopy. Several different courses are available.
If you're on island in June, attend The Taste of Hawaii. Not to be missed!
Eat a romantic dinner at Casa di Amici restaurant.
Paddle a kayak up the Wailua river, then hike to a dramatic waterfall.
Attend the fireworks show at Vidinha Stadium on the 4th of July.
Wear a miners hat and go tubing through tunnels dug through solid rock carved out decades ago to bring water down from the wettest place on earth.
Watch the sunset from the ocean front Beach House Restaurant, a ten minute drive from Hideaway.
Honeymoon & Anniversary Reviews
"The perfect place to start our honeymoon! We loved the high ceilings and the amazing Jacuzzi."

Maggy and Tucker
"I searched long and hard on the internet to find the perfect place to stay on our honeymoon, and we found it. The location was ideal!"

Anne and Peter Rumble
"First class all the way. By far the best value in terms of amenities, privacy, location and overall relaxation. What a great way to spend our 10th anniversary!"

Rachelle and Roy Vogler, San Jose, California
"Stayed for our honeymoon. Beautiful, clean, quiet, and wonderful. View of the ocean through the big windows all around and the lanai. The fixtures and furniture were excellent."

Trip Advisor member, Bay Area, CA
"What a wonderful start to our marriage! Relaxing, cozy and very accommodating. We plan to return every summer for our anniversary."

Tony and Diane Caruso, San Francisco, CA
"The perfect place for our honeymoon! So clean, cheerful and well equipped."

Shelly and John, Silverlake, CA
"Stayed for our honeymoon. Every amenity we needed was right at our fingertips!"

Deb Manning, Marlborough, MA
Back to Top