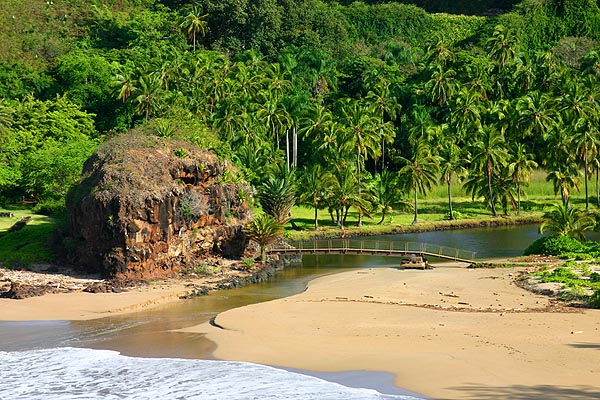 Poipu Beach
Beaches
Go
Places of Interest
Go
Farmers Markets
Go
North Shore
Go
East Side
Go
West Side
Go
South Shore
Go


Click on the video below to see the walk from Hideaway Cove to our two nearby beaches. Enjoy Brenneckes Beach for boogie boarding and Poipu Beach for swimming, snorkeling, surfing and stand up paddle boarding.

Located on the southern shore of the Garden Island of Kauai, Poipu is a small, exclusive beach community. The area has the distinction of being recognized by Worth Magazine as one of the 250 wealthiest cities in the United States. Poipu was one of only two cities in the Hawaiian Islands on the list. Poipu is known for its exceptional climate plus a string of beautiful white sand beaches. It's a place where swimming, surfing, snorkeling and scuba diving are ideal the year round.

Poipu Beach was named the number one beach in the United States by Dr. Beach. It has also been named number one by the readers of Travel and Leisure Magazine. Poipu provides a picturesque vacation spot with a quaint beach atmosphere. Near by in Koloa Town, visitors may feel like they've stepped back into the late 1800's. That's because the first sugar mill in the Hawaiian Islands was established in Koloa in 1848 and the small town grew up around the mill. Whether visitors seek leisure or activity, Poipu and Koloa Town provide something for everyone.

The South Shore is known on Kauai as "sunny Poipu" due to almost continuous sunshine with very few raindrops. Temperatures normally vary from a mid seventies low to a mid eighties high in the summer. In the winter temperatures drop to a low in the mid to high sixties, causing locals to put on their sweaters. Highs are in the mid to high seventies.

North Shore Beaches

ANNI BEACH AND PARK

Anini Park offers restrooms, showers, tables and barbecue facilities. Camping is allowed and requires a County permit. About a mile further down the road is Anini Beach featuring a large protected reef, the largest in the State of Hawaii. There are no facilities and no lifeguards at the beach.

Conditions—Calm waters in the summer months make this a great location for swimming and snorkeling. The ideal combination of water and wind also make this the spot to go if you'd like to learn to wind surf.

Directions—If you're coming from the south, turn right on the 2nd Kalihiwai Road off Kuhio Highway. If you're coming from the north, it's a left-hand turn onto the 1st Kalihiwai Road.

HA'ENA BEACH

The swimming here is very hazardous as there is no reef to slow down the wave action. There is also a deep drop off just offshore. However, the beach and park area is a beautiful and popular site with restrooms, showers, a grassy picnic area and picnic tables. The beach is sandy and there are shade trees nearby. Although the swimming is poor, surfing along this coast is great for the experienced surfer only. There are no lifeguards.

Conditions—Strong currents, dangerous shore break, high surf, sudden drop off, sharp coral and slippery rocks.

Directions—Take Highway 560 west from Ha'ena. The Beach Park is located just before Mile Marker #9, across the street from the dry cave.




HANAKAPI'AI BEACH

This beach is 2-miles down the popular 11 mile Kalalau Trail, so the hike to and from the beach is four miles round trip. The hike is of moderate difficulty and hiking boots should be worn. In rainy weather the trail becomes muddy and slippery.

Once at the beach, you can continue another two miles to Hanakapi'ai Falls. This second leg of the hike, from the beach to the falls, is a difficult hike, often criss-crossing the stream and is not recommended for beginners. All beaches along the Na Pali Coast are treacherous and swimming in not advisable any time of the year. You will see great views of the Na Pali Coast all the way to the beach. There are no facilities at the beach.

Conditions—Dangerous currents. Do not enter the ocean here.

Directions—Take Highway 560 to the end at Ke'ee Beach. The Kalalau Trail begins here. Hike 2 miles down the trail to Hanakapi'ai Beach.

HANALEI BAY-BEACH AND PIER

Famous for its spectacular beauty, Hanalei Bay is a long half-moon of sandy beach carved into the base of a sheer cliff on one side and narrowing into a rocky point on the other. The beach is a great spot for walking or just relaxing. At the westernmost curve of the bay, you'll find a calm shoreline where the water is relatively quiet even when most of the north shore is too rough for safe swimming.

The surfing in this area is famous and many locals as well as tourists visit the area. The beach is life guarded and has restrooms with showers. There is a nice grassy area with shade trees and picnic facilities with pavilions.

The Hanalei Pier is located on the east side of the long beach near where the Hanalei River enters the ocean. You can drive your car onto the hard packed sand to the right of the pier. The Princeville Resort and golf courses are just on the other side of the river.

Conditions - Fair swimming in the summer due to shore break and backwash. Good surfing and boogie boarding, especially in the winter The conditions change throughout the year; it's always a good idea to ask a lifeguard about water conditions.

Directions - Take Highway 560 west toward Hanalei from Princeville. Turn right on Aku Road. This road ends at Weke Road. Go right to Hanalei Beach Park or left to Wai'oli Beach Park.

KALIHIWAI BEACH

This great sandy beach fronts Kalihiwai Bay. During the summer months, the ocean is usually calm and swimming is good here, even for the kids. During the winter, the waves make this spot popular with surfers. Shady Ironwood trees and grassy areas make the beach comfortable for picnicking and relaxing. Kalihiwai stream divides the beach. There are no facilities and no lifeguards.

Conditions—Seasonal strong currents, dangerous shore break, slippery rocks and sharp coral.

Directions—Take Highway 56 west from Kilauea toward Princeville. Turn right on Kalihiwai Road just before Mile Marker # 24. Parking is located near the end of the road.

KE'E BEACH

Located literally at the end of the road, Ke'e Beach is probably the most visited beach on Kauai. The famed eleven mile Kalalau Trail begins at the western end of this beach. Several movies and mini-series have been filmed here such as The Thorn Birds and Castaway Cowboys. Ke'e's inviting lagoon is teaming with fish and perfect for snorkeling. Beware, however of the Puka Ulua, an opening on he left side from the lagoon to the sea. Currents can be very strong here. People often fish for the large, prized Ulua fish in this area.

A short walk toward Ha'ena provides a panoramic view of the Na Pali Coast. Keep walking toward the Limahuli Stream. This is where Taylor Camp was located—the largest, most noted hippie colony on Kauai. Founded by the brother of actress Elizabeth Taylor, this colony had up to 100 residents prior to the time the state condemned the land and evicted them.

In the opposite direction, walk down the path above the reef channel along a low rock wall. Look uphill to the site of Ka Ulu a Paoa Heiau. This ancient religious site was dedicated to Paoa, a friend of the legendary Lohiau, lover of Pele, the volcano goddess. A shrine to Laka, goddess of the hula, is also located in a hillside cleft behind the heiau platform. This beautiful, sandy lagoon has good swimming and snorkeling in the calm summer months. You'll also find great snorkeling and scuba diving on the offshore reef , as well as good shore fishing near the reef channel. There are restrooms and picnic facilities however there is no lifeguard. This is also the trail head for the Kalalau Trail, leading to Hanakapi'ai Beach.

Conditions—Beware of the Puka Ulua, an opening on the left side from the lagoon to the sea. Currents can be very strong here.

Directions—Take Highway 560 east past Ha'ena all the way to the end of the road.




LUMAHA'I (NURSES) BEACH

Between Haena and Hanalei Bay is the most photographed beach on Kauai. This beach was made famous by the movie South Pacific where Mitzi Gaynor "washed that man right out of her hair"! Lava rocks scattered along the mouth of the beach create a waterfall effect as the surf breaks and recedes over the rugged terrain. The beach itself is a long, wide crescent of sandy, picture-postcard-perfect.

The swimming, however, is another story. Strong currents, fierce waves, and unbelievable backwash make the water here unsafe almost all the time. A few excellent Hawaiian surfers may be seen trying their luck on the left side of the beach.

The Lumahai' Stream, on the left, is sometimes cut off from the ocean during the summer months due to large deposits of sand. In this case, cooling off in the fresh water of the stream is an option. A rock outcropping separates Lumaha'i from Kahalahala Beach, a mere naming technicality. The surf conditions are just as dangerous here. The beach has gorgeous scenery and sandy as well as shady areas. There are no facilities and no lifeguards.

Conditions - Large rocks, fierce waves, strong currents and unbelievable backwash make this beach unsafe for swimming. Only expert surfers attempt this area.

Directions - Take Highway 560 west from Hanalei toward Ha'ena. A trail runs from the top of the lookout at the eastern edge down to the beach or take the trail from the parking lot just before the Lumaha'i Stream.

PALI KE KUA (HIDEAWAYS) BEACH

This is one of the nicest sandy beaches on the North Shore with good swimming and snorkeling when the surf is calm. There are actually two small beaches separated by a rocky outcropping. A 10 minute hike makes this beach more secluded than other, more easily accessible beaches on the island. Coarse white sand. Some shade trees can be found here. There are no facilities and no lifeguards.

Conditions—Swim in the summer only, strong currents, dangerous shore break, slippery rocks and sharp coral. Be sure and monitor ocean conditions before entering the water.

Directions—Take Highway 56 west to Princeville. Turn right on Ka Haku Road. Go to the end of the road. Just before the Princeville Hotel gate house is a path to Hideaways Beach. The first portion of the path is a staircase. The second half is a trail. Total hiking time is approximately 10 minutes.


PU'U POA BEACH

This great, white sandy beach is located in front of the Princeville Hotel. Swimming is seasonal—best during the summer when the surf is usually calm. Lots of shade trees. There are restrooms and no lifeguards.

Conditions—Seasonal swimming and expert surfing during the winter months.

Directions—Take highway 56 to Ka Haku Road. Turn right and go the very end of the road. Pu'u Poa Beach is at the end of the 191 step staircase!


TUNNELS (MAKUA) BEACH

This is the superb snorkeling spot on the North Shore but only in the summer. The beach is 2-miles long, running from Hanalei Colony Resort to Ha'ena Beach Park. The center portion has a huge half-moon shaped reef just 1/8 mile offshore where snorkeling is the best. Deep water caverns and a large reef are located close to shore making it a great dive site, too. Swimming is often good here with shallow, sandy and calm areas. Also a great place to view the sunset. No facilities and no lifeguards.

Conditions—Good swimming, snorkeling, and scuba diving during the calm summer months. Good surfing and windsurfing.

Directions—Take Highway 560 east from Hanalei toward Ha'ena. Two short dirt roads, just past Mile Marker #8, lead to the parking area for the beach.

Back to Top

East Side Beaches

ANAHOLA BEACH

This lovely sandy beach has good swimming most of the year due to a protective reef offshore. The beach is backed by shade trees and is perfect for children. The nearby reef is perfect for snorkeling and beginning scuba diving. There are picnic tables, showers, and restrooms. Life guards are on duty week ends and holidays.

Conditions—Occasional strong currents, high surf, and waves. Slippery rocks and sharp coral are also present.

Directions—Go north on Highway 56 from Lihue. Turn right on Anahola Road just after Mile Mark #13. The beach park is approximately 1/2 mile down the road.


DONKEY BEACH

This secluded beach is about a 10 minute walk from the parking area. Rocks litter the shoreline but a lovely small strip of sand and shade trees make the area very comfortable. The beach was so-named because the nearby plantations used donkeys and burros to haul cane to the fields. Although there is good snorkeling, the swimming is poor. There are no facilities here and no lifeguard.

Conditions—Strong currents, dangerous shore break, sudden drop off and waves breaking on ledge.

Directions—Take Highway 56 north toward Anahola. There is a parking lot before Mile Marker #12 and a path leading to the beach.


KALAPAKI BEACH

Kalapaki Beach fronts the Kauai Marriott Resort and Beach Club as well as the Kauai Lagoons championship golf course. This crescent-shaped sandy beach opens out to Nawiliwili Bay and the Hoary Head Mountains. The sand gently slopes and the bay is partially protected, making the beach very popular with locals and tourists. Surf lessons, catamaran cruises, beach volleyball, kayak tours and sailboat rentals are all available nearby. There is a popular picnic area located at the adjacent Nawiliwili Park. Restaurants, including Dukes, Café Portofino and JJ's, are located nearby.

Conditions - Lovely white sand beach. Good swimming, bodysurfing, windsurfing, boogie boarding and beginning surfing

Directions - Take Highway 50 to Highway 56 into Lihue. Turn right on Rice Street at Mile Marker #0. Access to the beach is from the Anchor Cove Shopping Center or through the Kauai Marriott Resort.



KEALIA BEACH

North of the town of Kapa'a, you'll find nice, white, sandy Kealia Beach. This 150-foot wide, 1/2 mile long beach is popular with surfers and boogie boarders. In the summer months the surf is usually perfect and the riptide is not as fierce.

The north shore of the beach was once used for inter-island steamer landings when nearby Kealia was a plantation town. A few ruins of the dock still remain. In ancient times, Hawaiians would gather salt that formed on the sand flats. Today salt is mined from the dunes adjacent to the highway.

There is fair swimming and wading on the north end when the surf is calm. However, always check on ocean conditions yourself before entering the water. There are no facilities but there are lifeguards.

Conditions—Powerful waves, strong currents, and riptides often found in this area

Directions—Take Highway 56 north from Kapa'a. Turn right after Mile Marker #10 to reach the beach parking area.


LYDGATE BEACH

Lydgate Beach is a long, sandy white beach just perfect for young swimmers and beginning snorkelers. A boulder enclosed pool allows fresh water and fish in but keeps strong waves out. There is safe, good swimming here as well as a playground, picnic facilities, restrooms and showers. You'll also find shade trees and large grassy areas. There are lifeguards on duty.

Conditions - Calm and clear waters made possible by a boulder enclosed pool.

Directions—Take Highway 56 north toward Wailua. At Mile Marker #5 turn right on Leho Drive. Take the second right to the beach parking lot.

View Lydgate Beach Virtual Tour


NININI (RUNNING WATERS) BEACH

Ninini (pouring) Beach is so named because of fresh water that runs out from under a bluff and across the beach during heavy rains. The beach also is known as "Running Waters" Beach. It's a good spot for swimming and getting an excellent view of nearby mountain ranges and ships coming in and out of Nawiliwili Harbor. No facilities and no lifeguards.

Conditions—Good snorkeling on calm days.

Directions—Located below the Marriott Resort and Beach Club in Lihue. Walk through the 13th green and take the steep trail to the bottom.




NUKOLI'I BEACH

This long, lovely two-mile stretch of sandy beach is never crowded. Swimming conditions depend on the surf, use caution and monitor the ocean before entering the water. Facilities are located at the south end of the beach near the Outrigger Hotel There are no lifeguards.

Conditions—Strong currents, high surf, dangerous shore break, slippery rocks and sharp coral. Swim and snorkel only when surf is calm

Directions—Take Highway 50 south from Wailua. Turn right on the dirt road just past Mile Marker #4. You can drive right to the beach.

Back to Top

West Side Beaches

KEKAHA BEACH PARK

This beautiful, long sandy beach is the first portion of 15 miles of beaches that stretch along the west coast of Kauai. This area is great for sunbathing but swim only when the ocean is calm. Also a good beach for surfing and windsurfing. There are restrooms, however lifeguards are rarely on duty.

Conditions—Strong currents, dangerous shore break, high surf and sharp coral. Monitor ocean conditions before entering the water.

Directions—Take Highway 50 west from Waimea. Kekaha Beach Park is located between Mile Markers #26 and 27.



POLIHALE BEACH

Just past the Pacific Missile Range Facility gate on Highway 50, a sign posted by the Hawaii Visitors Bureau points to a dirt cane-hauling road angling off to the left. Follow the road. The park has a beautiful 3-mile long white sandy beach. It is an extension of Barking Sands Beach, making it Hawaii's longest beach with 17 miles of sparking white sand!

From the northern end of the beach, the beginning cliffs of the Na Pali can be seen. The sand dunes along this beach can reach up to 100 feet in height. The entire beach is unprotected from the ocean making it dangerous, with a severe shore break and rip currents.

One area on the 300-foot wide beach is safe for swimming and that is Queen's Pond, a small, encircled reef area (see directions below). Facilities located at Polihale State Park include restrooms, showers, picnic tables and drinking water.

The beach is accessible by a dirt road (called by locals a haul cane road). Although some locals drive on the sand, most all have four-wheel drive vehicles, so be very careful if attempting this yourself. It is a long way back to civilization and a very expensive tow truck ride if you get stuck in the sand. There are no lifeguards. Be sure to bring extra drinking water.

Conditions—Great scenic views of huge sand dunes and the start of the Na Pali coast. The swimming is poor except at Queen's Pond.

Directions—Take Highway 50 from Waimea west, all the way to the end of the paved road. Continue on the dirt/sand road. The first turn on the left leads to Barking Sands Beach. If you continue to go straight you will come to Polihale. The State Park is at the north end of the beach about five miles down the road.

A better bet is found at the 3.4 -mile mark along the cane road, where the road curves near a large monkey pod tree. Take the fork to the left and park almost immediately. Walk north along the beach until you come to a hollow in the coral. This is Queen's Pond. It's usually calm here except when high winter surf comes over the reef.


SALT POND BEACH PARK

This is the only natural salt pond in the state still used today by descendents of ancient Hawaiians to make sea salt. Do not enter the salt-making area without permission. Otherwise, the beach is open to the public and is one of Kauai's best windsurfing beaches.

Swimming is usually safe in this protected cove. Snorkelers will enjoy clear waters located at either end of the pond. Tide pools fronting the saltpans are interesting areas to explore.

There are restrooms and showers as well as picnic areas with pavilions and grills. Camping is available with a permit. Salt is panned during the summer months by native Hawaiians.

Conditions—Usually calm water all year. Good swimming, snorkeling, body boarding and windsurfing

Directions—Take Highway 50 west from Kalaheo toward Hanapepe. Just past Mile Marker #17, turn left on Lele and right on Lokokai Road to the beach park.

View Salt Pond Beach Park Virtual Tour
Back to Top

South Shore Beaches

LAWAI'I BEACH

This is the best snorkeling on the south shore. Also good surfing for the more experienced. There is a small, white sandy beach which offers good swimming, snorkeling and Snuba. Public restrooms (lua) and a beach shower are across the street. There are no lifeguards.

Conditions—There can be seasonal strong currents. Stay near the shore and monitor ocean conditions carefully.

Directions—Take Highway 50 Lihu'e. Turn right on Maluhia Road just before Mile Marker #7. At the end of the road, turn left on Koloa Road and then right on Po'ipu Road. Bear right at Lawa'i Road (toward Spouting Horn). Lawa'i Beach will be on your left just past the Beach House Restaurant. The Beach House is a great spot to watch the sunset and is pricey (and worth it) for dinner. You can park in the public parking lot across from the restaurant or on Lawa'i Road.


| | |
| --- | --- |
| Po'ipu is the major beach on the South Shore. It was voted the # 1 beach in the USA in 2002, 2003 and again in 2004. Swimming here is almost always safe especially on the left side of the beach. A small strip of sand divides this section of the beach from the rest. This sandbar is actually an unusual phenomenon that occurs when ocean currents rush toward the beach from opposite directions and deposit their sand forming a tombolo. This one is called Nukumoi Point. | |

In addition to a white sandy beach, the area has large grassy areas, shade trees, covered picnic pavilions, restrooms, showers and lifeguards.

Conditions—Great, safe swimming year round. Good snorkeling around the right side of the point.

Directions—Take Highway 50 from Hanapepe toward Lawa'i. Just past Mile Marker #11 turn right on Koloa Road (Highway 530). Continue to Po'ipu Road and turn right again. The road forks near the ocean, take the left fork. Just past the Po'ipu Shopping Center on the left, take Hoowili Road to the right and follow it to the beach parking lot.


SHIPWRECK (KEONELOA) BEACH

This beach was named for an old, wooden shipwreck that has long since disappeared. The cliff seen prominently at the beach is a lithified sand dune called Makawehi Point and is a popular fishing site. Hiking in this area is excellent along the cliffs and beach.

Swimming, however, should be left to only the most skilled due to strong currents and high surf. Experienced surfers, boogie boarders, body surfers and windsurfers greatly enjoy the challenge that this beach presents.

There are restrooms and there is no lifeguard.

Conditions-Strong currents and high surf, therefore the swimming is poor most of the time. Surfing for the experienced only.

Directions—Take Highway 50 to the Tree Tunnel (Highway 520) Just past Mile Marker #11 turn right onto Koloa Road . Continue one block and turn left at the Chevron Station onto Po'ipu Road. Continue several miles and then turn right just after the entrance to the Hyatt Regency Hotel. The beach fronts the Hotel. Access is via the public access walkway between the Hyatt and Po'ipu Bay Resort Golf Course.





View Shipwreck Beach # 1 Virtual Tour
Back to Top
| | |
| --- | --- |
| | Oldest in the Hawaiian Islands. A tour can be arranged. |
| | World famous body surfing locale. |
| | Covered picnic pavilions with large grassy areas. Perfect for picnics or sun bathing. Public restrooms. The only lifeguard on the South Shore is located here. |
| | Fine dining at Donderos and Tidepools Restaurants. Excellent Sunday brunch served at Ilima Terrace. Asian cuisine available for dinner at Yum Cha. |
| | Challenging course on the ocean's edge. Clubhouse, with view of a lake on the 18th green, serves an excellent lunch for non golfers. |
| | Offers a wide variety of spa treatments, many with a Hawaiian orientation. Non Hyatt guests may purchase a day pass allowing use of the exercise facility, pool, separate men's and women's locker rooms with in ground hot tubs, steam and sauna. Exercise classes also included including yoga, tai chi, step and salsa aerobics, total body workout, and aqua aerobics. Spa cuisine and smoothies available for breakfast, lunch and snacks. Closes at 2 p.m. |
| | Lappert's Ice Cream, Crazy Shirts, Pizza and Italian food restaurants, surf shop, clothing stores, Island Candle Works, Grocery Store. |
| Kukuiula Small Boat Harbor | Close and convenient harbor offers scuba diving, snorkeling cruises, sunset sails and whale watching during season (December to April) |
| Poipu Village Shopping Center | Numerous restaurants, Whalers Cove grocery and sundry store, Sunglasses Hut, clothing stores, surf shop, jewelry stores, and art galleries |
| | The Koloa Heritage Trail is a 10 mile walk, bike ride or drive which includes 14 historical stops and monuments describing the significance of the location. |
| National Tropical Botanical Gardens | Nationally renowned gardens recapture the magic of the Allerton Estate's extensive gardens while offering a glimpse of a bygone era. Guided tours available daily. |
| | Spectacular water spout plus a variety of shops selling jewelry and other tourist treasures. |
Back to Top
A fun tradition on Kauai are the Farmer's Markets that take place somewhere on the island everyday except Sundays. Small local growers come to sell their crops tailgate fashion. Although not agriculturally-cleared to take home on the plane, pick up a few items to enjoy during your stay. Prices are substantially lower than you'll find in the supermarkets.
Monday: Koloa Ball Park from noon to 2pm. Take Highway 50 to Highway 520. Travel South about 2 miles. Knudsen Park will be on your left.

Tuesday: Kalaheo Neighborhood Center from 3:30pm to 5pm. Travel west on Highway 50 to the town of Kalaheo. Turn left onto Papalina Rd. The neighborhood center will be on your left.

Wednesday: Kuku'uila Gourmet Farmers Market (Located near the traffic circle in Poipu). From 3:30 to 6:00 P.M. Inlcludes many Kauai made products including homemade pastas and sauces, homemade soups, hand crafted honeys and jams and fresh baked pies. There is a wine and beer garden and live music. At 5:00 P.M. there is a cooking demonstration with samples and a recipe afterward.

Kapa'a New Town Park from 2:30pm to 5pm. Take Highway 56 to Kapa'a. Turn inland at the ABC Store. 100 yards up, turn right on Kahau Rd. The park will be on your left.

Thursday: Hanapepe Town Park behind the fire station in Hanapepe Town form 3:30pm to 5pm. West on Highway 50, turn right at the "Biggest Little Town" sign. Follow the road to the fire station.

Friday: Vidinha Stadium parking lot from 3pm to 5pm. From Rice Street in Lihue turn onto Hoolako Road. The stadium will be on your right about a mile down the road.

Saturday: Kilauea Quality Farmers Association Market is from 11:30am to 1pm. Take Highway 56 north. In Kilauea turn toward the ocean at Hookui Rd., left on Koloa, right at the paint store, then left at the 4-way stop.

Hanalei Community Center field adjacent to the soccer fields. Take Highway 56 North into Hanalei. Just past Hanalei Town Center, left just at the soccer fields.
Back to Top